Ford Country Squire

Fifth generation
 1965 to 1968
Overview
Production
1965–1968
Body and chassis
Body style
4-door station wagon
Related
Ford LTD Mercury Colony Park Ford Galaxie Mercury Marquis Lincoln Continental Mercury Monterey
Ford Country Squire Fifth generation by year
1965 Ford Country Squire Fifth generation
In 1966, all Ford wagons introduced the Magic Doorgate, engineered by Donald N. Frey, which allowed the tailgate to flip down like a traditional tailgate or to open to the side as a swinging door.
1966 Ford Country Squire Fifth generation
The Magic Doorgate was made possible through use of a traditional stationary hinge on the right, and combination of hinges along the door's left side which carried the weight of the gate as it swung outward when used as a door.
1968 Ford Country Squire Fifth generation
For 1968, the Country Squire wore "LTD" lettering above the grille but was still marketed as the "Ford Country Squire".
1965 Ford Country Squire Fifth generation rear view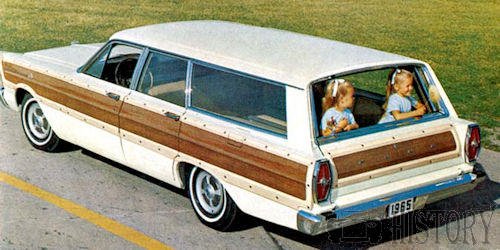 More information on
Ford Country Squire Fifth generation range by year from 1965 to 1968