Ford Thunderbird
first generation
1955 to 1957
Overview
Manufacturer
Ford Motor Company
Production
1955–1957
Assembly
Dearborn, Michigan
Body and chassis
Body style
2-door convertible
Layout
FR layout
Powertrain
Engine
292 cu in (4.8 L) Y-block V8 312 cu in (5.1 L) Y-block V8
Dimensions
Wheelbase
102 in (2,591 mm)
Length
175.3 in (4,453 mm) (1955) 185.2 in (4,704 mm) (1956 181.4 in (4,608 mm)(1957)
Width
70.3 in (1,786 mm)
Chronology
Successor
Ford Thunderbird (second generation)
 Ford unveiled the Thunderbird at the Detroit Auto Show on February 20, 1954. The first production car came off the line on September 9, 1954, and went on sale on October 22, 1954 as a 1955 model, and sold briskly; 3,500 orders were placed in the first ten days of sale. While only 10,000 were planned, 16,155 were sold in 1955.
As standard, the 1955 Ford Thunderbird included a removable fiberglass top; a fabric convertible top was an option, although commonly specified. The engine was a 292 Y-block V8, which got 18MPG. The car had fender skirts. The exhaust pipes exited through twin bumper guards, which are bolted to the rear bumper.
1955 Ford Thunderbird
Created to act as a retort to the Chevrolet Corvette, it was also the first mass-produced edition of all the Ford Thunderbird models. A total of 53,166 units were produced for the three model years 1955-1957. It was produced with a Fordomatic automatic or manual overdrive transmissions, and featured four-way powered seats and pushbutton interior door handles. Other unique features were a telescoping steering wheel and a tachometer.
Equipped with a V8 engine, the Thunderbird could hit 110-120 mph. It was a smaller two-seat "personal luxury car", compared to many other much larger cars that were on the road in the 1950s. It was designed to be a brisk luxury tourer, and not a sports car.
1956 Ford Thunderbird
For the 1956 model, more trunk space was added, the spare wheel was mounted outside(which helped free up trunk space), the exhausts were moved to the ends of the bumper, and air vents were added behind the front wheels to improve cabin ventilation. To improve rear-quarter visibility with the removable hardtop in place, "porthole" windows were made available as a no-cost option. An optional 312 Y-block V8 was made available for those that wanted more performance. 1956 production was 15,631 units, the lowest of all three 2-seater Thunderbird model years.
1957 Ford Thunderbird
For 1957 the front bumper was reshaped, the grille and tailfins were made larger, and larger tail-lights were fitted. The spare wheel moved back inside the trunk, which had been redesigned to allow it to be mounted vertically. The side "Thunderbird" script moved from the fins to the front fenders. A new option was "Dial-o-Matic" 4-way power seats that, when you turned off the ignition, the seat would move back to allow easier exiting. As well as the standard 292 and 312 engines, versions of the 312 were produced in higher states of tune, and even a few McCulloch supercharged versions, rated at 300 and 340 hp (254 kW) respectively. 1957 sales were 21,380, including three extra months of production because the 1958 models were late. The 1957 Thunderbird was the last two-seater Ford sold until the 1982 Ford EXP sport compact car.
A 1956 Ford Thunderbird  in the Heartbeat, TV Series, (ITV)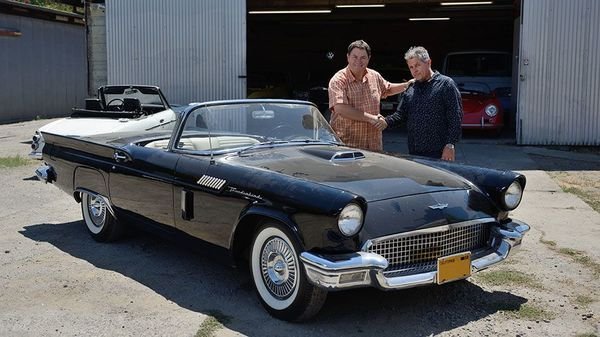 Wheeler dealers series 11 ford thunderbird
More information on
Ford Thunderbird first generation history by year 1955 to 1957
Technical
Production Totals

| | |
| --- | --- |
| Year | Production |
| 1955 | 16,155 |
| 1956 | 15,631 |
| 1957 | 21,380 |
| Total | 53,166 |