Ford Anglia E494A
 1949–1953

 

Overview
Production
1949–53 108,878 units
Body and chassis
Body style
2-door saloon 2-door panel van
Powertrain
Engine
933 cc I4
Transmission
3 speed manual
Dimensions
Wheelbase
90 in (2286 mm)
Length
154 in (3912 mm)
Width
57 in (1448 mm)
Height
63 in (1600 mm)
The 1949 model Anglia, code E494A, was a makeover of the previous model with a rather more 1940s style front-end, including the sloped, twin-lobed radiator grille. Again it was a very spartan vehicle and in 1948 was Britain's lowest-priced four-wheel car.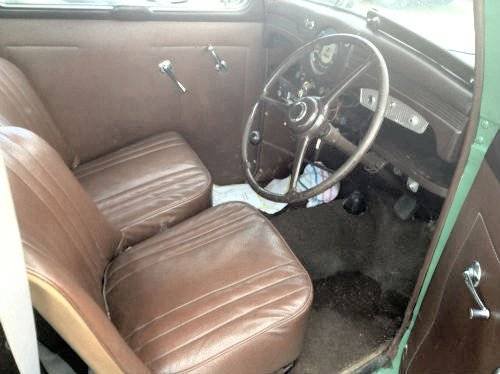 1949 Ford ANGLIA interior
An Anglia tested by the British magazine The Motor in 1948 had a top speed of 57 mph (92 km/h) and could accelerate from 0-50 mph (80 km/h) in 38.3 seconds. A fuel consumption of 36.2 miles per imperial gallon (7.80 L/100 km; 30.1 mpg-US) was recorded. The test car cost £309 including taxes.
Including all production, 108,878 were built. When production as an Anglia ceased in 1953, it continued as the extremely basic Ford Popular until 1959.
1949 Ford ANGLIA rear view 
More information on