History
Excalibur SS Series II
 
Manufacturer
 Excalibur 
Production
1970 to 1974
Class
 Luxury
Layout
Roadster,convertible
Drive
Rear
Engine
Chevrolet V8
Transmission
Auto or manual
wheel base: 
111 in, 2,819 mm 
The Excalibur SS Series II was a luxury car built from 1970 to 1974 in the USA.
History
Excalibur was well established by 1970, but it had spawned a slew of imitators who were helping to meet market needs that the limited Excalibur production couldn't meet. The Stevens brothers were hesitant to expand their manufacturing rate for fear of jeopardising the immaculate construction quality they desired for the public. So they introduced the Excalibur Series II, a completely new automobile that retained the S1's design.
As the old Studebaker Lark chassis was no longer built, David designed a new ladder chassis which had a two-inch longer wheelbase. The suspension components were borrowed from the Corvette, as was the four-disc braking system. Tire size went up and the rubbers were mounted on wheels especially designed for the car. The 327 ci. inch (5400 cc) V-8 engine bowed down to the new 350 cu. inch (5700 cc) unit which, with its anti-pollution equipment still managed to develop a healthy 300 hp. The "Muncie" four-speed manual transmission became standard, with a Turbo-Hydramatic three-speed unit available as an option.
From a price of $6000-$7250 for the S1, the Excalibur SII went up to $12,000 -$13,000 but justified that extra cost with its supplementary equipment. This included air conditioning, variable ratio power steering, adjustable steering column, servoed brakes, "Positraction" differential, chromed wire wheels, stereo radio, two spare tires mounted in the front fenders, driving lamps, air horns and constant level rear shock absorbers.
Despite the added mass of this luxurious equipment, the Excalibur Series II was capable of really sporting performance: 0-60 mph in under 7 seconds and a top speed of 149 mph! Unfortunately the production figures showed a steep decline at first with only 37 cars in 1970 and none whatsoever in 1971. What happened next is quite inexplicable, for from a production of zero in 1971, the figure rose to 122 the next year. Today the Excalibur Series II remains the rarest of all Excaliburs, with a total production number of only 342 against the Series I's 359.
PERFORMANCE
max power (SAE): 300 hp at 4,800 rpm
max torque (SAE): 380 ib ft. 52.4 kg m at 3,200 rpm
max engine rpm: 5,800;
specific power: 52.3 hp/l
power-weight ratio: 9.2 lb/hp, 4.2 kg/hp
acceleration: standing 1/4 mile 14 sec, 0-50 mph (0-80 km/h) 5 sec
speed in direct drive at 1,000 rpm: 25 mph, 40.2 km/h
fuel consumption: 18 m/ imp gal, 15 m/ US gal, 15.7 1 x 100 km.
max speeds:
72 mph, 116 km/h in 1st gear
97 mph, 156 km/h in 2nd gear
126 mph, 203 km/h in 3rd gear
155 mph, 250 km/h in 4th gear
The reason was that David and Steve decided to retool the chassis and install a new engine. The first few series II cars built in 1970 had a box type rear frame section with a Chevrolet Camaro front frame stub bolted on. Then in 1972 the chassis was a new one, although still a ladder-type affair, reinforced by a central 'X'-shaped member and featuring a removable bolt-on front section. Wheelbase had once more been stretched to 112 inches and the whole new chassis assembly housed an equally new engine, a Chevrolet Mk IV 454 cu. inch (7500 cc) big-block V8 which were being used in the Corvettes at the time. They offered the power to go with the looks. This was used through 1974.
To date, the 1970 Excalibur Series II remains the rarest of all Excaliburs, with a total production number of only 37 cars - 11 Roadsters and 26 phaetons.
OPTIONAL ACCESSORIES
Turbo Hydramatic automatic gear-box with 3 ratios 2.480, II 1.480, III 1, rev 2.077
hardtop
air-conditioning system.
| | | | | | | |
| --- | --- | --- | --- | --- | --- | --- |
| Series II Production | 1970 | 1971 | 1972 | 1973 | 1974 | Total |
| Roadster | 11 | - | 13 | 22 | 26 | 72 |
| Phaeton | 26 | - | 52 | 100 | 92 | 270 |
| TOTAL | 37 | - | 65 | 122 | 118 | 342 |
Technical
Excalibur SS Series II Technical details and specifications (1970-1974)

EXCALIBUR SSK SS Series Roadster
300 hp power team

ENGINE
front, 4 stroke
cylinders: 8
Vee-slanted at 90°
bore and stroke. 4 x 3.48 in, 101.6 x 88.3 mm
engine capacity: 349.9 cu in, 5,735 cu cm
compression ratio: 10.2
cylinder block: cast iron
cylinder head: cast iron
crankshaft bearings: 5
valves: 2 per cylinder overhead, in line, push-rods and rockers, hydraulic tappets
camshafts: I, at centre of Vee
lubrication: gear pump, full flow filter
carburation: 1 Rochester downdraught 4-barrel carburettor
fuel feed: mechanical pump
cooling system: water
lubricating system capacity: 8.3 imp pt, 9.9 US pt, 4.7 1
cooling system capacity: 33.3 imp pt, 40 US pt

TRANSMISSION
driving wheels: rear
clutch: single dry plate
gearbox: mechanical
gears: 4 + reverse synchro- II, III, IV
gearbox ratios: I 2.200, II 1.640, mesh gears: l, III 1.270, IV -1, rev 2.260
gear lever: central
final drive: hypoid bevel, limited slip
axle ratio: 3.360
width of rims: 7.5" tyres G70 x 15.

CHASSIS
box-type ladder frame
front suspension: indepent telescopic wishbones, coil springs, anti-roll bar, dampers
rear suspension: independent, wishbones,transverse semi-elliptic leafsprings, trailing radius arms, coil springs, anti-roll bar, telescopic
dampers.

STEERING
recirculating ball, servo
turns of steering wheel lock to lock: 2.50.

BRAKES
disc, servo area rubbed by linings: total 461.2 sq in, 2,975 sq cm.

ELECTRICAL EQUIPMENT
voltage: 12 V
battery: 70 Ah;
generator type: alternator, 37 A
ignition distributor: Delco-Remy

DIMENSIONS AND WEIGHT
wheel base: 111 in, 2,819 mm
front track: 62.50 in, 1,587 mm
rear track: 62.50 in, 1,587 mm
overall length: 170 in, 4,318 mm
overall width: 72 in,1 ,829 mm
overall height: 53 in, 1,346 mm
ground clearance: 6 in, .153 mm
dry weight: 2,750 1b, 1,247 kg

turning circle (between walls): 38 ft, 11.6 m
fuel tank capacity: 16.7 imp gal, 20 US gal, 76 1.

 

© Motor car History
Registered: Advanced information, Maintenance and Service Guides to download and save.
Members Only !  >>  Register here. <<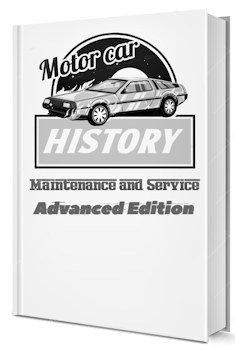 Related