CUSTOCA Strato
1968 to 1988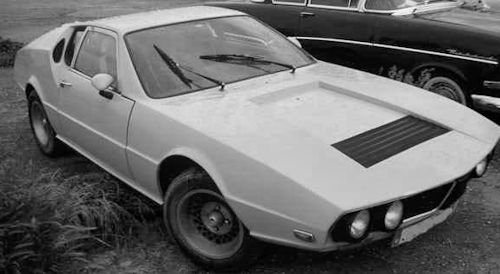 Influenced by the Bertone Lamborghini Marzal ,the prototype Wth GRP material and  A VW Beetle floor, engine and gearbox with 70HP.  The side and rear windows were made of plexiglass. Headlights had to donate an Audi, rear lights of the Fiat 850 Spider. Since aluminum rims were rare and expensive at that time, they were replaced by caps made of fiberglass. After completion of the car body, the lacquer was painted in the diamond effect "Stratosphere blue" hence the name
The exhibition at the Jochen Rindt Show 1968.  was enthusiastic and 12 visitors gave a fixed orders for the Strato .But there were serious problems with the production of the first 12 customer cars.But After an immense number of working hours all the assignments were fulfilled.
KIT Version
In order to improve the profitability and also to leave the customer the fun and production, the decision now focused on the production of kits. . The buyer received the complete body shell with fitted hoods and doors .The range of technical improvements began with lowering, cambering and axle support, and extended to long gear ratios and high-performance engines to Porsche Super 90. 
MODEL DEVELOPMENT
The design was subject to a variety of changes (grill, headlight, bumper, door length, front and side windows, roof height, rear end and lights). Four stages of development are clearly visible. The last even bore the independent name Taifun (2 complete vehicles and 23 kits). Rims from the companies Ronal, Crown Prince, Lemertz, BBS and Wolfrace were mainly used. conventional glass or plexiglass could also be ordered.  20 finished vehicles was often provided with unusual colors or coatings velvetex, electrostatic fibers, which produce a textile effect finish.
Specification
ENGINE Volkswagen, rear. 4 stroke; 4 cylinders, horizontally
opposed; 96.7 cu in, 1,584 cc (3.37 x 2.72 in, 85.5 x 69 mm);
max power (DIN): 50 hp (36.8 kW) at 4,000 rpm; max torque
(DIN): 78 1b ft, 10.8 kg m (105.9 Nm) at 2,800 rpm; 31.6
hp/l (23.2 kW/l). carburator, 2 x Solex
PERFORMANCE
power-weight ratio: 30 lb/hp (40.7 lb/kWj
13.6 kg/hp (18.5 kg/kW).
STEERING turns lock to lock: 2.50.
ELECTRICAL EQUIPMENT 12 V; 4 headlamps.
DIMENSIONS AND WEIGHT 
 length: 164.57 in, 418 cm;
BODY coupé in plastic material; 2 doors; 2 + 2 •seats.
PRACTICAL INSTRUCTIONS
 Tyre pressure: front 19 psi, 1.2 atm, rear 22 psi, 1.5 atm.
More information on
Custoca Strato car history and specs from 1968 to 1988