Commer Imp Van
Commer Imp Van from 1965 to 1970
Overview
Manufacturer
Rootes Group
Commer Cars, Ltd.
Production
1965–1970
Body and chassis
Body style
panel van. some adaptations to special purposes
Engine
Water-cooled inline-4, OHC, 875cc, 36bhp
Transmission
4-speed manual
The Commer Imp Van was a Light weight van with aluminium engine introduced in mid 1965  and was based on the Hillman Imp saloon. It was renamed as the Hillman Imp Van in October 1968, with total production reaching 18,194 units prior to it being phased out in July 1970. The Hillman Husky estate car, which was introduced in July 1967,was based on the Imp Van. Commer Imp Van was priced at £441 plus tax. The van base model was very basic, one seat, one sun visor these could be upgraded for passengers.
 The floor was flat and the rear loading door was top-hinged.The commercial Imp was fitted with a low compression detuned engine, with power 36bhp. so it It could run on the cheapest grade of fuel. The driveshafts were uprated and it got the new 6¼" clutch.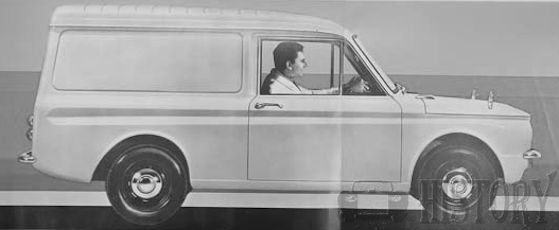 To cope with the extra weight over the tail, the van used both heavy-duty crossply tyres and stronger wheels (12" x 4"J).for a load 5cwt (350 kg) load,  It's turning circle is 29', whereas an Imp saloon takes 30'6".
It has an exhaust with the tail-pipe angled down. This keeps the fumes from getting sucked into the car, or blow on the legs of someone loading at the rear.
Only just over 18,000 Vans were produced.     
More information on
Commer Imp Van from 1965 to 1970