History
Cisitalia 204A Abarth Spider 
1948 to 1949

General description
Manufacturer
Cisitalia
Category
Grand Prix Formula
Designed by
Carlo Abarth
Substitute
Cisitalia 202
Technical description
Mechanics
Frame
Tubular frame with central cruise
Engine
Cisitalia 204A 4 cylinders
Transmission
4-speed manual transmission
Dimensions and weights
Length
3900 mm
Width
1460 mm
Height
1165 mm
Step
2100 mm
Weight
510 kg
The Cisitalia 204A Abarth Spider Corsa is a racing car created by Cisitalia in 1948.
Development
The car was the first racing car built by the Italian-Austrian engineer Carlo Abarth and the last one produced by Cisitalia.
Technique
Abarth, for the realization of the vehicle, took advantage of the collaboration of the engineer Luciano Scholz. The frame consisted of two oval tubes reinforced by a central cruise. The suspension , in the front section, consisted of independent wheels with double longitudinal arms and transverse torsion bars (solution derived from that used on the Porsche 356 ), while in the rear section they consisted of a rigid bridge suspended on two semi-elliptical leaf springs equipped with hydraulic telescopic shock absorbers.
The 4-cylinder engine was derived from that of the Fiat 1100 , was named 204A and was run by an exchangemanual four-speed. It was combined with two carburetors Weber 36 DR SP 4 which allowed him to generate the power of 83 CV . With this configuration, the maximum speed was 190 km / h. The body of the car, to reduce the total weight to 510 kg, was built in aluminum , while the braking system consisted of hydraulic drum brakes .
Sporting activity 
The car was deployed in the race for the first time at the GP of Vercelli in 1948. Piloted by Adolfo Macchieraldo, the 204A proved to be very competitive, but was forced to retire due to a breakdown. Subsequently, at the GP of Mantua , two cars were deployed, one entrusted to Macchieraldo and the other to Felice Bonetto . This time the victory went to the car prepared by Abarth. Then there were numerous other victories, many by the pilot Guido Scagliarini.
In 1949 the Cisitalia went into crisis and was placed under controlled administration . The racing department was acquired by Carlo Abarth, and with it two complete 204A and two in the assembly phase. For a court decree, the cars of the newborn sports house would have to run for a year with the Cisitalia crest before being replaced. When this happened in 1950, the 204A could exhibit the brand's new trademark, a scorpion on a red and yellow background. On one of these cars, Tazio Nuvolari obtained his last victory in the Palermo-Monte Pellegrino.
In total, under both the Cisitalia and Abarth brands , the 204A won 19 victories. 
Technical
Registered: Advanced information, Maintenance and Service Guides to download and save.
Members Only !  >>  Register here. <<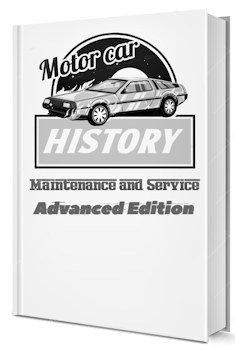 Related