Chevrolet El Camino

Fourth generation
 1973 to 1977
Overview
Production
1972–1977
Model years
1973–1977
Assembly
Baltimore, United States Doraville, United States Leeds, Missouri, United States Arlington, United States Fremont, United States Oshawa, Ontario, Canada
Body and chassis
Platform
A-body
Related
GMC Sprint Chevrolet Chevelle
Powertrain
Engine
250 cu in (4.1 L) I6 307 cu in (5.0 L) V8 350 cu in (5.7 L) V8 400 cu in (6.6 L) V8 454 cu in (7.4 L) V8
Transmission
3-speed manual 4-speed manual 3-speed Turbo-Hydramatic auto.
 For 1973, the El Camino was redesigned. Matching the Chevelle line and using the wagon chassis, it was the largest El Camino generation. Energy-absorbing hydraulic front bumper systems created an ungainly appearance on these vehicles and added more weight. There were two different trim levels of El Caminos during this period. The base model and SS option shared interior and exterior appointments with the Chevelle Malibu, while the El Camino Classic (introduced for 1974) shared its trim with the more upscale Chevelle Malibu Classic.
The chassis design was as new as the bodies with 1-inch (25 mm) a wider wheel track, front and rear. The left wheel was adjusted to have slightly more positive camber than the right, which resulted in a more uniform and stable steering feel on high-crown road surfaces while maintaining excellent freeway cruise stability. Clearances for spring travel were also improved for a smoother ride over all types of surfaces; the coil springs at each wheel were computer-selected to match the individual car's weight. Front disc brakes were now standard on all '73 El Caminos. Additional new features were an acoustical double-panel roof, tighter-fitting glass, flush-style outside door handles, molded full-foam seat construction, flow-through power ventilation system, inside hood release, refined Delcotron generator and sealed side-terminal battery, a larger 22-US-gallon (83 L; 18 imp gal) fuel tank, and "flush and dry" rocker panels introduced first on the redesigned 1971 full-size Chevrolets. New options included swivel bucket seats (with console) and Turbine I urethane (backed by steel) wheels, as was the instrument gauge cluster. A benefit of the new body designs was much better visibility of which the unusually thin windshield pillars contributed. A structural improvement was a stronger design for the side door guard beams.
The 307 2-barrel V8 of 115 hp (86 kW) was the base engine. Options included a 350 2-barrel V8 of 145 hp (108 kW), a 350 4-barrel V8 of 175 hp (130 kW), and a 454 4-barrel V8 rated at 245 hp (183 kW). Hardened engine valve seats and hydraulic camshafts made these engines reliable for many miles, and allowed them to accept the increasingly popular unleaded regular gasoline. The three-speed manual transmission was standard; 4-speed manual and Turbo Hydra-Matic 3-speed automatic transmissions were optional. Crossflow radiators and coolant reservoirs prevented overheating.
The SS, now a trim option, included a black grill with SS emblem, bodyside striping, bright roof drip moldings, color-keyed dual sport mirrors, special front and rear stabilizer bars, rally wheels, 70-series raised white-lettered tires, special instrumentation and SS interior emblems. The SS option was available with a 350 or 454 V8 with the 4-speed or Turbo Hydra-Matic transmissions.
1974 Chevrolet El Camino Fourth generation side
The 1974 El Caminos sported an elongated, Mercedes-type grille. Inside, the new top-of-the-line El Camino Classic featured luxurious interiors with notchback bench seats (or optional Strato bucket seats) upholstered in cloth or vinyl, carpeted door panels and woodgrain instrument panel trim. The 350 V8 became the base engine and a 400 V8 engine was new this year. The 454, the top engine, was available with the Turbo Hydra-Matic 400 automatic or 4-speed manual transmission.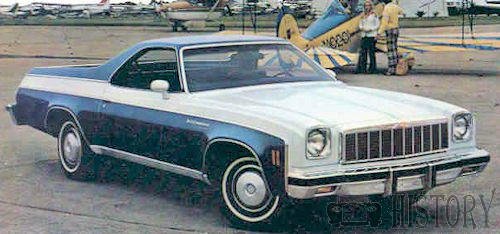 1975 Chevrolet El Camino Fourth generation
The 1975 models featured a new grill, providing a fresh appearance. Suspension upgrades offered a quieter ride, and radial-ply tires became standard. Dual remote mirrors, new twin sport mirrors, intermittent wipers, and cruise control were among new convenience features this year. The 1975 high energy ignition (HEI) provided spark to the spark plugs with minimal maintenance and increased power. The larger distributor cap also provided better high-RPM performance by decreasing the likelihood of the spark conducting to the wrong terminal. The 250-cubic-inch in-line six of 105 hp (78 kW) was offered as the base engine. The 454-cubic-inch V8, downrated yet again to 215 horsepower (160 kW), made it into 1975 as an El Camino option, but this would be its last go-around. It was not available in California, and the optional four-speed stick was no longer offered. Buyers could now choose an Econominder instrument package that included a vacuum gauge to point out when optimum fuel economy was being attained.
For 1976, El Camino Classic models now featured the new rectangular headlights that other high-end GM cars were sporting. These were quad units in stacked arrangement. The base model retained the previously used dual round headlights. Engines included the base 250 I6 engine, a new 140-horsepower 305-cubic-inch V8, two- and four-barrel 350s (with availability still depending on California delivery), and the 400-cubic-inch V8, still good for 175 hp. All engines except the 250 I6 came with the Turbo Hydra-matic automatic transmission as the only transmission available. The 250 I6 came with a 3-speed manual or an optional Turbo Hydra-matic.
1977 Chevrolet El Camino Fourth generation
The 1977 models were little changed, except the 400 V8 was gone. The El Camino Classic was again the top mode l and the SS option continued.
Concept vehicle
In 1974, Chevrolet's sister division, Pontiac, reportedly took an El Camino body and grafted on the urethane-nose front end from its Grand Am series and added the GA's instrument panel and Strato bucket seats with recliners and adjustable lumbar support along with Pontiac's Rally II wheels as a styling exercise for a possible Pontiac version of the El Camino; the concept, however, never reached production.
How do you rate this vehicle ?
Share this page
Related
About
Title
Chevrolet El Camino 4th gen (1973–1977)
American cars of the 1970s
Brand
American cars of the 1970s