Cadillac Vizón concept car
 
Vehicle technical details
Manufacturer:
 Cadillac
Production:
 2001
Class:
 concept
Total production:
 1
Body and chassis
Body styles:
 SUV station wagon
Doors:
 4 door
Chassis/body:
 steel
Engine and Powertrain
Drive:
 4WD
Engine Type:
 V8 Northstar
Displacement:
 4.2 liters 
Engine location:
 front
Engine power:
300 bhp (224 kW)
Transmission:
 5-Speed Automatic
Cooling:
 water cooled
Tyres:
 Front 20" rear:21"
Weights and Dimensions
Wheelbase:
 3033 mm
Length:
 4862 mm
Width:
 1801 mm
Height:
 1631 mm
Weight:
 2209 kg 
 
The Cadillac Vizón is a concept vehicle that introduced the Cadillac Division of General Motors at the 2001 North American International Auto Show . 
The edged shape SUV had a grille with four fins over the entire vehicle width, limited by narrow, high headlights. The high stern wore narrow, high taillights. The car is powered by a 4.2-liter V8 gasoline engine from the Northstar series with a maximum output of 300 hp (224 kW).  This is connected to a five-speed automatic transmission.
The vehicle is 4862 mm long, 1801 mm wide, 1631 mm high and has a wheelbase of 3033 mm. The body is self-supporting. The front suspensions are double wishbone axles and the rear suspension is a multi-link axle . 
The car can accommodate four passengers with leather seating and had a two-part sliding / folding roof, the front half can be placed and the rear half can be postponed. Furthermore, it was advertised with design features, such as a dashboard in which the instrument cluster during the Vizón is not in operation, is covered by a flap DVD entertainment. Additional storage space is under a double floor in the trunk.  The boot lid is electrically operated a chip embedded in the key fob will the car unlock the car and adjust seating. 
The concept was realized in 2004 with the SRX  series.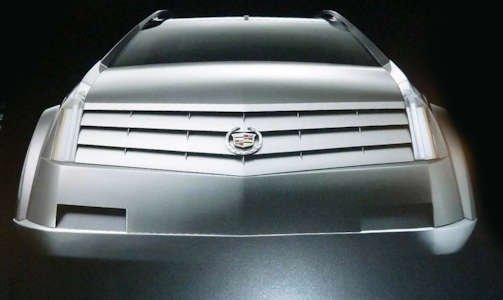 About
Cadillac Vizón concept (2001)
Updated
Thursday, 12 March 2020