YKC Sports Cars Limited
 YKC Sports Cars Limited , previously YKC Engineering Limited , was a British manufacturer of automobiles . 
History
The company YKC Engineering Limited was on 3 July 1992 in Ackworth at Pontefract  West Yorkshire founded.   Stephen Himsworth and Pauline Frances Burt was from 17 July 1992, the directors. They started with the production of automobiles and kits . The brand name was YKC , short for Yorkshire Kit Cars . On 15 December 2000, the name was changed to YKC Sports Cars Limited .Martin John Griffin also became director on 18 April 2001. Himsworth resigned on April 30, 2001, and Pauline Burt on July 18, 2001. Donald Edward Burt replaced Griffin as director on February 13, 2004. 2007 ended production. On February 19, 2008, the company was dissolved.  Overall, created over 800 copies. 
YKC ROADSTER
The Roadster was the successor to the Marlin Roadster by Marlin Engineering . This was a roadster in the style of the 1930s. Himsworth and Clive Gamble reworked the model. The parts came from the Ford Sierra . By 2004, about 500 copies were created.
The Berlinetta was the Coupé version of the Roadster . He found until 1998 about 150 buyers. 
YKC ROMERO
In 1998, the Romeo supplemented the range. This was like the roadster . The parts also came from the Ford Sierra. By 2004, about 80 vehicles were created.  After that produced by Aquila Sports Cars.
From 1999 to 2005, the Imola was on offer and found about 20 buyers. Except for little things like the front fenders , which were much closer to the front wheels. 
The Julietta appeared in the same year. The differences to the Imola were small. From 2004 to 2007, Aquila Sports cars continued its production under its own brand name. From this model a total of about 40 copies.
The Mille Miglia was visually similar, but had two small convertible windscreens. This model is called a semi-monocoque. From 1999 to 2004, about ten vehicles were created. This model also subsequently produced Aquila Sports Cars.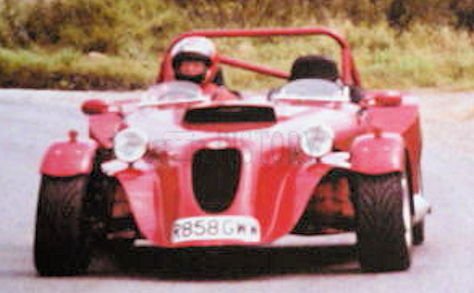 YKC RAIDER
The Raider was in the range between 1999 and 2004. It was a sports car for the racetrack, visually similar to other YKC models, but larger. A V8 engine from Rover was used in the vehicle. Only a few copies were created.
The Pace was the successor of Margin Street Council of Margin Sports Cars . This was a small open two-seater. The four-cylinder engine came from the Ford Fiesta . This model found about three buyers between 2002 and 2004.
In addition, YKC took over Formula 27 Cars ' production of the F 27 Clubman and MBE models in 2002 , both in the style of the Lotus Seven and the KR Roadster , a two-seat sports car. Image Sports Cars continues production of these models since 2005.
Britain

YEC (1907-1908)
1023 / 1027
Zealia (1996-1999)
More information on
YKC Sports Cars Limited
Automotive manufacturer of Pontefract , West Yorkshire.Great Britain from 1992 to 2008.