Glenfrome Engineering
Car manufacturer of Bristol and London; Great Britain from 1977 to 1988.
 Glenfrome Engineering was a British manufacturer of automobiles . The brand name was Glenfrome . 
History
Ken Evans and Vivian Hunt founded the company in 1975 in Bristol . In the same year they presented for the first time an automobile. 1977 began the series production. In 1986,In the main, the company was busy with the conversion of Range Rover. The offer included six-wheeled versions and convertibles . the company was dissolved. Elektiar from London continued production until 1988 and used the same brand name. In total, more than 23 vehicles were created. 
The first model Delta from 1975 remained a prototype . This was a coupe . A four-cylinder engine of the Triumph Dolomite Sprint was mounted in mid-engine construction behind the seats.
The facet was created between 1981 and 1985. This was a four wheel drive off-road vehicle based on the Range Rover with a coupe body. The vehicles were equipped with air conditioning . Much of the 23 vehicles produced were sold to Arab countries.
The successor profiles appeared 1985 .The Profile was a full 4-seat 2 door, wedge-shaped, with glass reinforced polyester body is fitted to a substantial steel Chassis and the power comes from a high performance V 8 engine. The car's occupants sit in air condition luxury, protected by a tubular steel roll cage.
The car features an electrically operated fabric folding sun roof and a laundelet
Technical Specification
Standard equipment folding hood includes electrically adjusting front seats, power windows,central door locking and electrically operated door mirrors. Profile.also ingeniously conceals an 8,000 1b Capacity remotely controlled winch at the front.The rear mounted spare wheel swings provide casy access to the' 12 cu. ft. capacity
3.5 litres V8 gasoline Rover engine with 97 kw/132 Bhp
5 speed manual or 4 speed Automatic
Permanent 4 wheel drive, high and low ratios
Front and rear drive permanently engaged via lockable centre differential boot. Coil springs, radius arms with panhardrods (frolic) Hydraulie disc on front drum brakes on rear   12 volt negative earth, 65 amps alternator.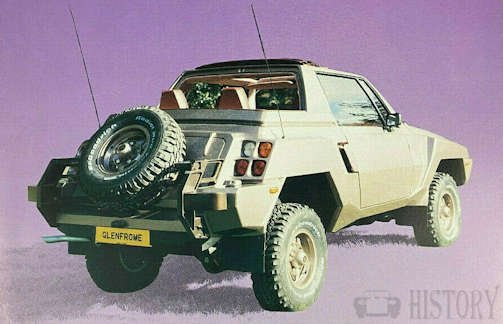 Britain

Gitane (1962)
454 / 1027
GN (1910-1923)
More information on
Glenfrome Engineering
Car manufacturer of Bristol and London; Great Britain from 1977 to 1988.