Dunsmore motor traction
 Former Automobile Manufacturers Stretton-on-Dunsmore , Warwickshire .United Kingdom from 1984 to 1996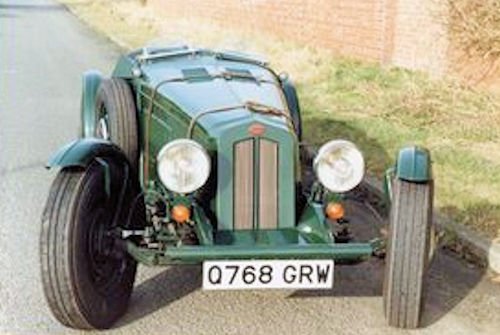 Dunsmore Motor Traction was a British manufacturer of automobiles from the mid 1980s to the 1990s.The brand name was Dunsmore .
History 
Bill Hines founded the company in 1984 in Stretton -on-Dunsmore in the county of Warwickshire . He started producing automobiles and kits . 1996 ended the production. In total, about 14 copies were made. 
Vehicles
The offer included roadsters in the style of the 1930s. They were based on Jaguar Cars vehicles and had a steel ladder frame.  In a vehicle body frame made of steel tubing panels were plywood or steel mounted. The prototype drove a six-cylinder engine from Vauxhall Ventora on.  This vehicle was in contrast to the following one rear axle from Austin Westminster .  The majority of the vehicles were powered by a Jaguar engine. However, also are V8 engines of Rover and a six-cylinder engine with 4000 cc capacity of Rolls-Royce Motor Cars handed. 
The Dunsmore Jaguar Special was a two-seat sports car by Dunsmore Motor Traction from Stretton-on-Dunsmore in England . The company manufactured between 1984 and 1996 about 14 vehicles, including some with Jaguar engine. The base formed a ladder frame. On a body frame of steel pipes were panels of plywood or steel mounted.  The open roadster body style of the 1930s provided space for two people. A six-cylinder 3.8-liter engine from Jaguar Cars powered the vehicle. The transmission had four gears plus overdrive . The 13 "drum brakes came from the Jaguar XK 140 .
More information on
Dunsmore motor traction
Former Automobile Manufacturers Stretton-on-Dunsmore , Warwickshire .United Kingdom from 1984 to 1996