Calvy (Calvy Motor Car Company )
Automotive manufacturer of Essex.Great Britain from 1983 to 1995.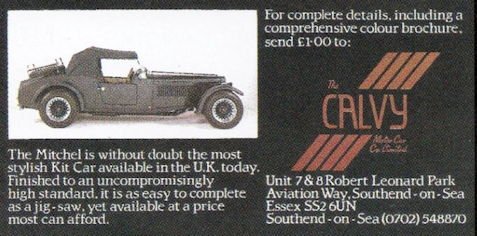 History
Richard Calvy distributed vehicles and kits from NG Cars .1983, he founded the company Calvy Motor Car Company in Southend-on-Sea in  Essex . They started with the production of automobiles and kits . The brand name was Calvy . In 1986, the production ended first.  Calley Car Company from Warley in Staffordshire continued production from 1990 to 1992 led by Richard Calvy and then Calvy Motor Company under the direction of Michael and Liam McGivern from 1984 to 1992, were the manufacturers. 
Calvy engine from Kidderminster in Worcestershire , led by John Jones was between 1992 and 1995 was the last manufacturer.  Overall, emerged about 53 cars. 
The only model was the Mitchel . This was a two-seater classic style  Roadster it was technically and visually similar to the NG TC . Only after a complaint from NG Cars formed a ladder frame the basis of the vehicles. A four-cylinder engine from the MG B powered the vehicles. Alternatively, a V8 engine from Rover was possible.
From 1992 was also an extended version with 2 + 2 seats and the rear suspension of the Fiat 131 available. 
Britain

Calthorpe (1904-1932)
244 / 1027
Camber (1966-1967)
More information on
Calvy (Calvy Motor Car Company )
Automotive manufacturer of Great Britain from 1983 to 1995.