Avro (AV Roe and Company)
 Automotive manufacturer of Woodford Greater Manchester.Great Britain from 1919 to 1926.
History
After Roe had already made a name as a designer, he developed in 1908 with the Roe I, the first English aircraft engine. It was a wooden biplane powered by a 24 hp pressure -screw engine . After, several followed triplane designs like the Avro triplane .
On April 27, 1909 founded AV Roe together with his brother Humphrey V. Roe, the company AV Roe and Company.
In January 1913, the company was incorporated into AV Roe & Company Ltd. renamed and introduced the abbreviation Avro as a trade name.
In addition to various models, some of which were only produced in very small numbers - sometimes only one prototype was produced by a series - the company also produced models that were extremely successful and in demand and that are still regarded as legendary to this day. Last but not least, chief designer Roy Chadwick was responsible for many successful designs by Avro.
Avro made the Avro 504 in the First World War , an aircraft that was less used in combat but was used by many pilots as a training machine. The plane had its maiden flight on 5 July 1913 and was produced in high volumes over a long period of time; until 1932, the 504 was built for export . She set especially in England accents in the field of recreational flying.
Automobile construction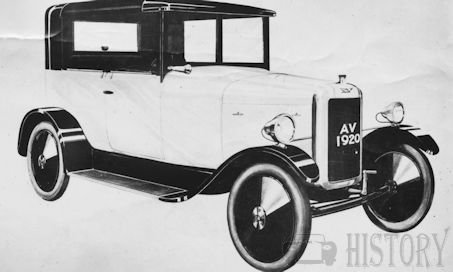 Avro gained a second foothold in the automotive industry after the end of the war. Thus, the company worked as a supplier for the model T of the Ford plants in Trafford Park, and also its own automotive developments with different engine variants were launched in 1919 on the market.
A unique was the "Monocar", a disguised motorcycle that was built until the end of the 1920s. Roe was probably inspired to build this vehicle by the fact that his company had built the runabout of Harper in previous years. The Harper Runabout was a small, three-wheeled vehicle with a 270 cc single-cylinder engine from Villers and presented as a low-cost car for the masses of the population an alternative to the motorcycle made till 1926
Avro also offered the 11 hp light-duty vehicle with side-mounted 1.3 l four-cylinder engine. The car had no separate frame, but a self-supporting body in mixed construction (sheet-metal frame). After one year, the production was stopped 
.
Britain

Avon (1903-1912)
137 / 1027
AWE (1979-1998)
More information on
Avro (AV Roe and Company)
Automotive manufacturer of Woodford Greater Manchester.Great Britain from 1919 to 1926.