Palladium
Cars 1911 to 1925
Putney

,  London.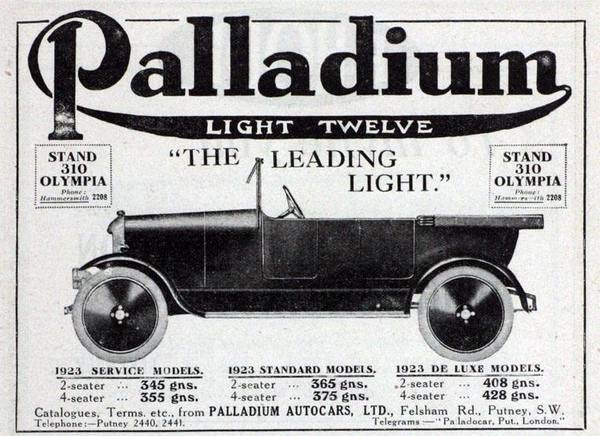 The Palladium Auto Cars Ltd.. was a British automobile manufacturer that was established from 1911 to 1925 in Putney,  London.

The company produced sports cars of the upper middle class with water-cooled four-, six-and eight-cylinder engines. Only in 1919 a small car with air-cooled two-cylinder in-line engine was built.

1925 Palladium closed its doors.
company produced
cars for the
upper middle
class
Production
| | | | | |
| --- | --- | --- | --- | --- |
| Model | Years | Cylinder | CC | Wheelbase |
| 12/16 hp | 1911 | 4 | 1767 cm³ | 2870 mm |
| 10/12 hp | 1912 | 4 | 1726 cm³ | 2870 mm |
| 12/16 hp | 1912–1913 | 4 | 2120 cm³ | 2870 mm |
| 15/18 hp | 1912–1913 | 4 | 2651 cm³ |   |
| 10/18 hp | 1913–1914 | 4 | 1847 cm³ | 2896 mm |
| 18/30 hp | 1913–1914 | 2 | 3772 cm³ | 3353 mm |
| 20/28 hp | 1913 | 8 | 3451 cm³ |   |
| 12/22 hp | 1914 | 4 | 2297 cm³ | 2896 mm |
| 10/18 hp | 1915 | 4 | 1795 cm³ | 2896 mm |
| 15/26 hp | 1915 | 4 | 3160 cm³ | 3048 mm |
| 15/20 hp | 1915 | 4 | 3456cm³ | 3048 mm |
| Cyclecar | 1919 | 2 | 1330 cm³ | 2591 mm |
| 12 hp | 1922–1925 | 4 | 1496 cm³ | 2819 mm |
| 15 hp | 1922–1925 | 4 | 1795 cm³ | 2819 mm |
A chassis from a Palladium 12/16 hp 1911
About
Updated
Friday, 19 October 2018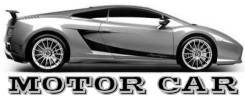 Published date
Saturday, 30 November 2013