AJS Car History
A. J. Stevens & Co. Ltd (AJS)
Successor(s)
Matchless
Founded
1909
Founder(s)
A. J. Stevens
Defunct
1931
Headquarters

Wolverhampton

,

England

Key people
Joe Stevens
Products
Cars and motorcycles

AJS was the name used for cars and motorcycles made by the Wolverhampton, England, company A. J. Stevens & Co. Ltd, from 1909 to 1931, by then holding 117 motorcycle world records. After the firm was sold, the name continued to be used by Matchless, Associated Motorcycles and Norton-Villiers on four-stroke motorcycles till 1969, and since the name's resale in 1974, on lightweight, two-stroke scramblers and today on small-capacity roadsters and cruisers.
History
Automobiles, omnibuses, and coaches
Although best known for their motorcycles the company made a few experimental cars with Meadows engines in 1923 but decided not to go into full production.
AJS had manufactured car bodies for Clyno, but in 1929 Clyno went under. AJS returned to car making in 1929 with the Nine powered by a 1018 cc side-valve Coventry-Climax engine producing 24 bhp (18 kW) and driving through a three-speed gearbox. The cars were quite expensive at £210 for the two-seater and £320 for the fabric bodied saloon. About 3,300 were made.
The company also started making buses and coaches. The first model was the Pilot with a Meadows engine. This was followed by the Commodore with a Coventry Climax L6 engine and finally by the Admiral. Just over 200 buses were built.
In 1931, A. J. Stevens & Co went bankrupt. After BSA failed to obtain control, the motorcycle assets were bought by the Collier brothers London company Matchless and the car manufacturer Crossley Motors. Crossley incorporated some improvements such as a four-speed gearbox and using parts acquired from AJS built about 300 cars between December 1931 and May 1932. Assembly took place in the Stockport factory used by Willys Overland Crossley. Motorcycle production moved to Plumstead in London.
A 1½-litre model was planned, but failed to materialize except to appear on the Willys-Overland-Crossley stand at the 1932 London Motor Show.
In 1938, AJS became part of a group called Associated Motorcycles, formed by the Colliers as a management company for its various interests. After this Matchless and AJS generally shared models using different badging, although the AJS name was used for several unique racers.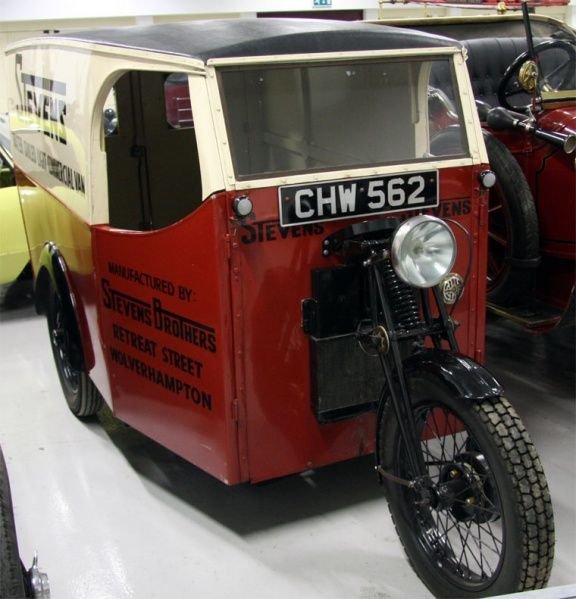 AJS Comercial 1930
Motorcycles
Joe Stevens, father of Harry, George, Albert John ('Jack'), and Joe Stevens Junior, was an engineer who owned the Stevens Screw Company Ltd, in Wednesfield, near Wolverhampton. Stevens had a reputation for quality engineering before the company built its first motorcycle in 1897, using a Mitchell single-cylinder four-stroke imported from the USA. Before long, Stevens began making engines, starting off with a better-built version of the Mitchell but the family soon developed their own designs, including parallel-twins and V-twins, which were sold as proprietary engines to other manufacturers, including Werner, Wolf and Clyno.
In 1909, after a Wearwell motorcycle fitted with a Stevens side-valve single-cylinder engine won a trophy for a 24-hour non-stop run in 1909, Jack Stevens decided to contest the Tourist Trophy in the Isle of Man. A new company, A J Stevens & Co (AJS), was founded, with premises in Retreat Street, Wolverhampton, to manufacture motorcycles and the first model appeared at the Motor Cycle Show in 1910. Its engine, a two-speed 298 cc side-valve, was made to come within the 300 cc limit for Junior machines in the 1911 Isle of Man TT races and was slightly larger than the 292 cc used for the proprietary engines. Jack Stevens came 16th on AJS's official entry, one place behind private owner J.D. Corke on an identical machine.
Albert John Stevens lent his initials to the company, but it was a family concern. In 1922 for example, Harry Stevens acted as managing director, George Stevens as commercial manager, Joe Stevens Junior managing the experimental section and Jack Stevens as production manager.
AJS did not contest the 1912 TT as it was busy satisfying the demand for its products, but was 10th in the 1913 Junior. With the Junior limit raised to 350 cc for 1914, the AJS motorcycle had grown to 349 cc, with four-speed gears and chain final drive. AJS won first, second, third, fourth and sixth place in the Junior 1914 Isle of Man TT race that year. The old Screw Company's facilities could not cope with the demand and with the company reconstituted as A.J. Stevens (1914) Ltd, AJS moved to a new factory built around Graiseley House, a short distance south of the Retreat Street premises, which were relegated to the being the company's office and repair department. The 349 cc machine (known as the 2 3⁄4 hp) was most in demand but the company also produced an 800 cc (6 hp) V-twin.
On 3 November 1916, the Ministry of Munitions prohibited the production of non-military motorcycles, and AJS went over to manufacturing munitions, but in early 1917 the Ministry received an order from Russia for military vehicles, and AJS was given a contract to produce part of the order with its AJS Model D machine. This kept AJS busy until Ministry of Munitions restrictions were lifted in January 1919.
When production of the 350 resumed in 1920, it was much improved. The side-valve engine was replaced by a new overhead-valve design that produced 10 bhp. It also had internal expanding brakes and chain primary drive. Cyril Williams won the first post war 1920 Isle of Man TT Junior race on his 350, even though he had to push the motorcycle home for almost four miles (mostly downhill) after a breakdown. AJS took the first four places in the 1921 Isle of Man TT, and Howard R Davies bettered his second place in the Junior by winning the Senior on the same 350 cc AJS. This was the first time a 350 had won the 500 cc Senior TT race. In 1922 Manxman Tom Sheard won the Junior on an AJS, with G Grinton, also on an AJS, taking second.
The 1922 machine was a classic design that would become famous as the 'Big Port' on account of its large-diameter exhaust port and pipe (initially 1⅝ inches, but changed in successive years). The OHV 350 would be the mainstay of the company's racing efforts until 1927 and in production form (first offered to the public in 1923), was also AJS's most popular sports motorcycle throughout the 1920s. At this time, the company produced a comprehensive range of other models ranging from 250 to 1,000 cc. These were generally given a model number, plus letter to denote the year of manufacture (for example, E meant 1924, F 1925, G 1926).
In 1929 for example, the AJS range consisted of: M1 Deluxe 996 cc side-valve V-twin £76/10/0; M2 Standard 996 cc side-valve V-twin £66/0/0; M3 Deluxe Touring 349 cc side-valve single £48/10/0; M4 Deluxe Sporting 349 cc side-valve single £48/10/0; M5 Standard Sporting 349 cc side-valve single £45/0/0; M6 349 cc overhead-valve single £54/10/0 (twin port), £52/0/0 (single port); MR6 Special Sports 349 cc overhead-valve single £62/0/0; M7 349 cc overhead-camshaft single £62/0/0; M8 498 cc overhead-valve single £62/0/0 (twin port), £59/10/0 (single port); MR8 Special Sports 498 cc overhead-valve single £72/0/0; M9 Deluxe Touring 498 cc side-valve £54/0/0; M10 498 cc overhead-camshaft single £72/0/0; M12 Lightweight 248 cc side-valve single £39/17/6. Several of these were intended to pull one of the 12 AJS sidecars also on offer, including sports, touring and commercial models.
By 1927, it had become clear that push-rod overhead-valve designs were becoming dated in racing, so AJS introduced two new chain-driven overhead-camshaft racing models, the 349 cc K7 and the 498 cc K10. Jimmy Simpson rode a 350 to third place in the Junior TT and won races in Europe but in 1928 AJS used the overhead-valve engine in the TT. In 1929 there were again two machines with an overhead cam, this time the 349 cc M7 and the 498 cc M10. Wal Handley came second in the 1929 Junior TT for AJS. The following year Jimmie Guthrie won the 1930 Lightweight TT on a 250 cc AJS.
In 1931, the AJS S3 V-twin was released, a 496 cc transverse V-twin tourer with shaft primary drive and alloy cylinder heads. It had been expensive to develop and was slow to sell. Even though it held 117 world records, the AJS company was now in financial trouble.
 
1930 AJS Tourer
Britain

Airedale (1919-1924)
35 / 1027
AKS (1959-1965)