History
Mini Moke
 1964 to 1993
Manufacturer
BMC Leyland Australia British Leyland Portugal Cagiva
Also called
Austin Mini Moke Morris Mini Moke BMC Mini Moke (Military version)Leyland Moke (Australia)
Production
1964 to1993
Assembly
Setúbal, Portugal Longbridge plant, Birmingham, England Zetland, New South Wales, Australia Umtali, Rhodesia
Designer
Sir Alec Issigonis
Class
utility vehicle
Body style
4 seat convertible 2 seat pickup
Layout
FF layout
Engine
850 cc A-series, I4 998 cc I4 1098 cc I4 1275 cc I4
Transmission
4-speed manual
Wheelbase
2,020 mm (79.5 in)
Length
3,050 mm (120.1 in)
Width
1,300 mm (51.2 in)
Height
1,400 mm (55.1 in)(with cloth roof and windshield raised)
Kerb weight
406 kg (896 lb) — Early models 578 kg (1275 lb) — Later models
The Mini Moke is a vehicle based on the Mini designed for the British Motor Corporation (BMC) by Sir Alec Issigonis.
History
The name comes from "Mini"—the car with which the Moke shares many parts—and "Moke", which is an archaic dialect term for donkey.The Moke has been marketed under various names including Austin Mini Moke, Morris Mini Moke and Leyland Moke.
The initial design was a prototype for a light military vehicle in the style of the American Jeep, but its small wheels and low ground clearance made it impractical as an off-road vehicle. It was subsequently offered in a civilian version as a low-cost, easily maintained utility vehicle. The Moke finally achieved success as a beach buggy—becoming a popular 'cult' vehicle in the Algarve, Seychelles, Australia, the United States and many tropical resorts in the Caribbean. The original Moke used identical engine, transmission and suspension parts from the Mini Van.
The first Mokes were only built at BMC's Longbridge, Birmingham plant. 14,518 Mokes were produced in the UK between 1964 and 1968, 26,000 in Australia between 1966 and 1981, and 10,000 in Portugal between 1980 and 1993 when production of the Moke ended.
When Issigonis designed the Mini, he planned another vehicle to share the Mini's mechanical parts, but with a more rugged body shell. This was an attempt to take a portion of the military vehicle business from Land Rover. Issigonis had previously designed the Nuffield Guppy in a failed attempt to break into that market. By 1959, BMC had working prototypes of what was codenamed "The Buckboard", later to become the Mini Moke. These prototypes were shown to the British Army as a parachute-droppable vehicle, but poor ground clearance and a low-powered engine did not meet the most basic requirements for an off-road vehicle. Only the Royal Navy showed any interest at all in the Buckboard—as a vehicle for use on the decks of aircraft carriers.
Early promotional material made much of the lightness of the vehicle, showing four soldiers travelling in the Moke off-road, then picking it up by its tubular bumpers and carrying it when (inevitably) its low ground clearance proved inadequate.
In a further attempt to make something for the army, a few four-wheel drive Mokes were made by the addition of a second engine and transmission at the back of the vehicle with linked clutches and gear shifters. This did nothing for the ground-clearance problems, and mechanical complications discouraged development beyond the prototype stage. This vehicle was called "The Twini" and was shown to the US Army—again with no success.
Three of these vehicles were used by the Brazilian Army after being captured during the 1969 Rupununi Rebellion from Guyanese rebels, who had crossed the border into Brazil.
British Mokes
Eventually BMC gave up on the idea of selling the Moke to the military, and in 1963 the decision was made to build a civilian version, targeting farmers and light commercial applications. Several prototypes were built in 1963, one of which is still known to exist in Pinner just outside London, England. The Moke was launched onto the British market in 1964. The British Customs and Excise department decided that the Moke should be classified as a passenger car rather than as a commercial vehicle which meant that it attracted purchase tax, reducing sales in its intended commercial market.
The Moke attracted attention as a 'cult' vehicle as a result of the unprecedented success of the Mini and through media exposure in the popular television series The Prisoner, as well as in the Traffic song "Berkshire Poppies." Despite this, only about a tenth of the 14,500 British produced Mokes were sold in the United Kingdom.Mokes continued to be made in Britain until 1968.
British-made Mokes were fitted with a low-end 848 cc inline-four engine, detuned to use low-octane fuel. They used the same suspension, gearbox and 10 inch wheels as the standard Mini. In the initial offering, passenger seats, grab handles, heater, windscreen washer and a removable canvas top were all optional equipment delivered separately from the vehicle. Owners had to bolt these optional extras onto the vehicle themselves. The base price was GB£ 405. The 'Mk I' Mokes had a single windscreen wiper and a floor-mounted headlight dip switch, and the only colour available was "Spruce Green". In 1967, the 'Mk II' Moke added a passenger-side wiper. Horn and headlight controls were moved onto the indicator stalk. These later British Mokes were also available in white.
The John Player & Sons cigarette company ran a team of Mokes in autocross competitions on grass tracks through 1968. These vehicles were equipped with rollover protection and used the Mini Cooper S 1275 cc engine.
Australian Mokes
The Moke was built in Australia from 1966 to 1981 where it was originally marketed as the Morris Mini Moke and from 1973 as the Leyland Moke. Initially Australian Mokes had the same 10 inch wheels as British Mokes and Mini saloons, however these were soon replaced by 13 inch wheels with longer rear trailing arms, which made them more practical for gentle off-road or beach use than the British version. The solid metal seats of the British Mokes were replaced with tubular-framed 'deck-chair' seats. This variant started with a 998 cc engine which was switched in mid-production to 1,098 cc. In 1976, with the advent of new anti-pollution requirements (Australian Design Rule 27A), the locally manufactured 1,098 cc motor was replaced by an imported version of the 998 cc motor with an air pump and exhaust gas recirculation, which had been developed to meet UK anti-pollution requirements.
PERFORMANCE: 850cc
engine capacity: 51.74 cu in, 848 cu cm
fuel consumption: 42.8 m/imp gal, 35.6 mlUS gal, 6.6 1 x 100 km
max speed: 73 mph, 117.5 km/h
power-weight ratio: 35.1 lb/hp, 15.9 kg/hp
max power (DIN) : 34 hp at 5,500 rpm
max torque (DIN): 44 1b ft, 6.1 kg m at 2,900 rpm
max engine rpm: 5,500
specific power: 40.1 hp/l
For a brief period around 1972, Leyland Australia produced a variant referred to in Leyland literature as "Moke, special export", but commonly called a "Californian", which had a 1,275 cc engine and was fitted with side marker lamps and different rear lights to conform to US FMVSS standards. The fuel tank from the Austin Sprite or MG Midget was fitted beneath the rear load area, replacing the standard tank mounted in the left sidebox. The export Californian was readily recognisable by its roof and seats, trimmed in 'Op-pop verve' black and white tiger striped vinyl or 'Orange Bali' vinyl, which looked rather like a fruit salad, and was briefly marketed to the 'flower power' culture in the United States.
The name "Californian" and the 1,275 cc motor were resurrected in 1977 for Australian market Mokes with denim seat covers, more comfortable seats (which concealed the same basic frame within), spoked wheels and complex tubular bumpers (known as 'roo bars').
Australian Mokes were exported to many countries, and pioneered large-scale exports of Australian-made vehicles. Leyland Australia made much of these exports in its advertising. The use of Australian-made Mokes by the Israeli Army (complete with a machine gun tripod mounted in the rear) attracted controversy and media attention.
From 1975, a pickup version of the Moke was produced, with a 1.45 x 1.50 metre (55 x 59 in) drop-sided bed which protruded behind the back of the vehicle, and a cloth top over the cab area. At least two four-wheel drive Moke prototypes were manufactured by Leyland Australia in the late 1970s, but unlike the British version, these used just one engine. Leyland were planning to market this version, but Moke production in Australia ended in 1981 and all that remains of the project is one of the prototypes which is now owned by an enthusiast in Western Australia and a modified differential crownwheel with gearteeth cut in the side to drive the rear tailshaft, in the personal collection of a Melbourne Mini specialist.
In 1977, a 1,275 cc Cooper S-engined Moke (sponsored by Coca-Cola) was entered into the Singapore Airlines London-Sydney Marathon. The car was driven over 30,000 km (19,000 miles) over 30 days and finished in 35th place.
Portuguese Mokes
As Australian Moke production wound down, manufacturing was transferred to British Leyland's subsidiary in Portugal, which made 8,500 of the 'Californian' Mokes in their Vendas Novas plant between 1980 and 1990. Initially these Mokes were identical to late model Australian Mokes; very soon, however, they were altered to use then-current British production Mini saloon components, including the standard-length Mini rear trailing arms and the 12 in wheels with modern low-profile tyres, which the saloon had acquired during the Moke's absence from Europe.
In 1990, British Leyland (by then called Rover Group) sold the "Moke" name to Cagiva—a motorcycle manufacturer in Bologna, Italy. Production continued in Portugal until 1993, when Cagiva transferred the tooling to their factory in Italy with the intention of restarting production in 1995—which they never did. Since Cagiva did not own the "Mini" name, the 1,500 cars they built were sold simply as "Mokes". This brought the total production run of Mokes and Moke derivatives to about 50,000.
Construction and maintenance
The Moke's construction is simple. The body mainly consists of two box-section 'pontoons' or 'sideboxes' running between the front and rear wheels, and include (non-hollow) extensions of that from the back of the car all the way up to the front. These are connected by the floor pan, the firewall and a sturdy lateral torque box that runs under the front seats and stiffens the body in torsion. The left-hand pontoon contains the fuel tank; the right-hand has a compartment for the battery and a small lockable storage area. The 1972 "Moke, Special Export", commonly referred to as a 'Californian' Moke, has an Austin Sprite/MG Midget type fuel tank fitted beneath the rear floor area to meet the American FMVSS safety requirements of the time. Standard Mokes of the same period and later Californian Mokes use the conventional tank mounted in the left sidebox. Later Portuguese Mokes have additional lockable storage space at the rear of the vehicle. The optional cloth canopy has plastic side windows, and is held up by a thin tubular structure that can easily be removed when not needed. In later versions this was replaced with a more solid roll cage. The windscreen can easily be unbolted and removed if not needed. There are just three curved panels in the Moke, the bonnet, the firewall and the floor, each of which is only curved in one direction. This makes it relatively straightforward to reproduce and replace Moke body components without access to sophisticated machine tools.
Because the Moke's A-Series engine, manual gearbox and suspension are identical to those of a standard Mini (which was still in production up to October 2000), most spare parts are still readily available. The Moke has no chassis, so the wheels, brake assemblies and suspension are attached to front and rear subframes which are bolted straight onto the monocoque shell just as with a standard Mini. Mokes tend to require much structural maintenance if they are to stay in good running order.
Kit cars and look-alikes
The true Mini Moke was never available as a 'kit car', but because the basic Mini parts are easily available, many companies have made copies of the vehicle: the Andersen Mini-Cub, the Del Tech Nomad, the Gecko, the Hobo, the Hustler, the Jimini, the Mini-Scout, the Mule, the Navajo, the Ranger, the Mini Scamp, the Stimson, the Warrior and the Yak.
 A Austin Mini Moke in You Only Live Twice Movie from 1967
 
Mini Mokes also Featured briefly in Live and Let Die and later in The Spy Who Loved Me. In Live and Let Die, Bond and Rosie use this vehicle to drive to the harbor to meet Quarrel Jr. In The Spy Who Loved Me, the crew of the Liparus supertanker uses a Mini Moke in their defense against a break out by the submarine crews. Also seen in Moonraker where Bond and Dr. Goodhead are hiding in a trailer (prior to boarding Moonraker 6 as pilots) after escaping from an air vent during Moonraker 5's launch.
Mini Moke in The Prisoner cult TV-Series from the 1960s
Mini Moke from Wheeler Dealers Series 8
Technical
BMC Mini Moke Technical details and specifications  (1964-1993)

848cc-998 cc A Series Engines 8MB/8AM/85H/99H 

No. of cylinders 4/OHV
Capacity 848 cc and 998 cc
Firing order 1-3-4-2
Compression ratio 8.3:1
Suitable for unleaded petrol No
Fuel system 848cc Make SU Type HS2 Carb-VV
Fuel system 998cc Make SU Type HS2/HS4 Carb-VV
Ignition coil Make Lucas Type LA12
Distributor Make Lucas No. 25D4/45D4
Distributor Contact breaker gap 0.4mm
Distributor Dwell angle 848cc 57-63° 46-56 (%) 998cc 57-63° (63-70%)
Fuel pump pressure 0.17-0.21 bar
Starter motor Make Lucas Type M35G/M35J
Maximum cranking amps 97-119 A
Voltage regulator Make Lucas RB 106/2
Regulated voltage 13.9-14.3V
max power (SAE): 37 hp at 5500 rpm
max torque (SAE): 44 1b ft, 6.1 kgm at 2900 rpm
max number of engine rpm: 5500: specific power: 43.6 hp/l
cylinder block: cast iron
cylinder head: cast iron
crankshaft bearings: 3
valves: 2 per cylinder, overhead, in line, with push-rods
Fuel Consumption: 46 m imp gal, 38.5 m Us gal, 6.1 | x 100 km

TRANSMISSION
driving wheels: front
clutch: single dry plate (diaphragm), hydraulically controlled
gearbox: mechanical, in unit with engine; gears: 4 + reverse
synchromesh gears: all
gearbox ratios: 1st 3.628, 2nd 2.172, 3rd 1.412, 4th 1, rev 3.628
gear lever location: central
final drive: helical spur gears, in unit with engine and gearbox
axle ratio: 3.765.

CHASSIS
type integral, front and rear auxiliary frames
front suspension: independent, wishbones, rubber cone springs, telescopic dampers
rear suspension: independent, swinging longitudinal trailing arms, rubber cone springs, telescopic dampers.

STEERING
rack-and-pinion
turns of steering wheel lock to lock: 2.33.
turning circle (between walls): 30.5 ft, 9.3 m

BRAKES
drum, 2 front leading shoes
lining area: total 74 sq in, 477.30 sq cm.

ELECTRICAL EQUIPMENT
voltage: 12 V
battery: 34 Ah
generator type: dynamo, 22 Ah
ignition distributor: Lucas

DIMENSIONS AND WEIGHT
wheel base: 80.16 in, 2,036 mm
front track: 47.45 in, 1,205 mm
rear track: 46.87 in, 1,190 mm
overall length: 120 in, 3,048 mm
overall width: 53.55 in, 1,360 mm
overall height: 56 in, 1,422 mm
ground clearance: 6.30 in, 160 mm
dry weight: 1,188 1b, 539 kg
distribution of weight: 66.4% front axle, 33.6% rear axle


© Motor car History
Registered: Advanced information, Maintenance and Service Guides to download and save.
Members Only !  >>  Register here. <<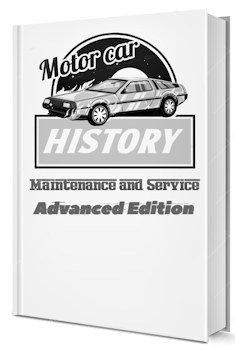 Service
BMC Mini Moke Practical Instructions and Service Guide (1964-1993)

848cc-998 cc A Series Engines 8MB/8AM/85H/99H 

Spark plugs Original equipment Champion Type RN9YCC
Spark plugs Electrode gap 0.8mm
Spark plugs Tighten 25-35 Nm
Valve clearance -INLET 0.30mm check cold
Valve clearance -EXHAUST 0.30mm check cold
Drive belt size - alternator 9,5x825 mm
timing: (inlet) opens 5° before tdc and closes 45° after bdc, (exhaust) opens 40° before bdc and closes 10° after tdc
Drive belt tension - alternator 25mm
engine oil change, 4.2 imp qt, 4.8 US qt, 4.5 1, SAE 1OW-20 (winter) 20W-30 (summer) change every 3000 miles, 4800 km
Cooling system 3.5 litres
greasing: every 3000 miles, 4800 km, 8 points
Road wheels Tighten 50-57 Nm

tyres: 5.20 x 10
fuel tank capacity: 6 imp gal, 7.1 US gal
carrying capacity: 706 1b, 320 kg

© Motor car History
Related