Austin 7 hp Car (1909-1911)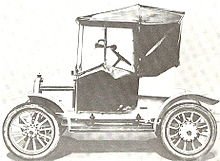 The Austin 7 hp car was a small motor car designed by the British Austin Motor Company, and built by the Swift Motor Company for two years from 1909 to 1911. The resulting 7 hp was sold under Austin and Swift marques; a total of 1,030 were produced, 162 of which were Austin.
The 7 hp was powered by a single-cylinder engine, using one cylinder block from the Austin 18/24 engine as a basis. The resulting engine of 1099 cc produced 9 hp at 1300 rpm.
The car was sold for £150 but it was not a success, and production ceased after two years.