Audi Avantissimo concept car 2001
Overview
Manufacturer
Audi AG
Production
2001
Body and chassis
Class
Concept car, Station wagon
Body style
5-door Avant
Layout
Front-engine design,
quattro permanent four-wheel drive
Powertrain
Engine
4.2 L V8 twin-turbo
Transmission
6-speed Automatic transmission
The Audi Avantissimo was a concept estate car by the German automobile manufacturer Audi. The Audi Avantissimo debuted at the 2001 Frankfurt Motor Show in Germany. It also appeared at the 2002 North American International Auto Show in Detroit.
Audi Avantissimo concept car side view
Audi planned the Avantissimo to be luxurious and distinguished, but very swift at the same time. Many of its styling cues are visible on the 2004 Audi A8.
The Audi Avantissimo had a 4.2 L V8 engine equipped with twin turbochargers. This engine developed about 430 PS (316 kW; 424 hp) and 600 lb·ft (810 N·m) of torque.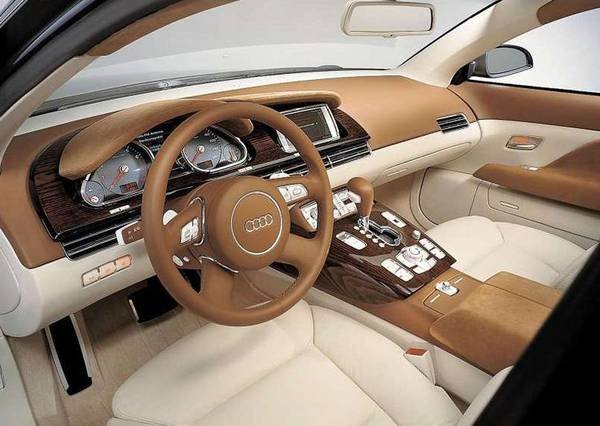 The 2001 Audi Avantissimo concept car interior view
The estate Avantissimo had a six-speed automatic transmission and also had quattro permanent four-wheel drive.plush interior and large boot loading area.
The rear view Audi Avantissimo concept car from 2001
More information on
Audi Avantissimo concept car