AMC Ambassador

Second generation
1960 to 1961

Overview
Also called
Rambler Ambassador
Model years
1960–1961
Body and chassis
Body style

4-door sedan
4-door hardtop sedan
4-door station wagon
4-door hardtop station wagon

Powertrain
Engine
327 cu in (5.4 L) V8
Dimensions
Wheelbase
117 in (2,972 mm)
 1960
1960 saw the Ambassador lineup totally reskinned, wearing new fenders, hood, deck lid, door skins, roofline, grille, taillights, bumpers, windshield, and backlight. Significant were the lower hood line, lower windshield cowl, simplified side trim, egg crate grill, while the tailfins were reduced in height and were canted to either side making for a modern and integrated appearance. The overall effect was rather fresh, as the new roof had a lower, lighter look, to complement the lower fins and grille.
1960 AMC Ambassador 4-door station wagon side view
All Ambassadors came equipped with the American Motors 327 cu in (5.4 L) V8, but for the first time it was available in two versions. First was the original 270 hp (201 kW; 274 PS), 360 lb·ft (490 N·m) of torque, performance version equipped with the 4-barrel carburetor and a 9.7:1 compression ratio, which required premium fuel, and a second economy version running on regular gasoline making 250 hp (186 kW), 340 lb·ft (460 N·m) of torque, equipped with a 2-barrel carburetor and an 8.7:1 compression ratio.
Ambassadors now came with a unique compound curved windshield that cut into the roof. This improved visibility, did away with the "knee knocker" dogleg design of AMC's first generation wrap-around windshield, and resulted in an even stiffer unitized structure. The 1960 Ambassador had a low cowl which with the compound windshield afforded excellent visibility. The Ambassador was offered in higher end Custom or entry level Super trim levels. All 1960 Ambassadors came with a new instrument cluster under a padded cowl, as well as illuminated controls for lights, wipers, fan, and defrost functions. The 1960 Ambassadors continued with an enclosed drive shaft (torque tube) and coil springs at all four corners, although the suspension was revised resulting in better handling. The top-of-the-line Ambassador models came standard with individual "airliner" reclining front seats that now had even more luxurious fabrics than in previous years.
The Ambassador was the only American mid size, luxury high performance car offered in 1960. The 1960 Ambassador came in 4-door sedan, 4-door pillarless hardtop, 4-door station wagon, and a 4-door pillarless (hardtop) station wagon. Equipped with the 270 horsepower 327 cu in V8, and the Borg Warner push button operated 3 speed planetary gear and torque converter automatic transmission, the Ambassadors reached 60 miles per hour (97 km/h) in just over 9 seconds and passed the quarter-mile in 17 seconds.
1961
1961 AMC Ambassador 4-door sedan
The 1961 Ambassador continued the previous year's 117-inch (2,972 mm) basic unitized platform, but received an unusual new front-end styling that was overseen by AMC's in-house design department headed by Edmund Anderson. The new face consisted of a trapezoidal grille and headlights that floated in a body-colored panel, while the front fenders arched downward and forward of the leading edge of the hood. Different from anything else on the market, AMC's marketing department promoted the look as "European." While the new look was meant to distinguish the Ambassador from the lower-priced Ramblers, it was neither a consumer success nor well received in the automotive press. Overall sales fell as the entire industry was experiencing a recession. The hardtop sedan and wagon models did not return for 1961.
Standard was the 250 hp (186 kW; 253 PS) 327 cu in (5.4 L) V8 with a synchromesh manual transmission. Optional was the 270 hp (201 kW; 274 PS) "power pack" version with dual exhaust system featuring new ceramic-coated mufflers guaranteed for the life of the car.
A completely redesigned larger Rambler lineup appeared. The new cars continued the philosophy in building smaller cars than its larger "Big Three" competitors that also had a high degree of interchangeability in parts to keep tooling costs and production complexity to a minimum. The company, which pioneered "styling continuity", introduced all-new styling for the 1963 model year Ambassadors and claimed that these were "functional changes .... not change just for the sake of change." The Ambassadors featured a 4-inch (102 mm) longer wheelbase, but were 1.2-inch (30 mm) shorter due to reduced front and rear body overhangs, as well as a 3-inch (76 mm) drop in over-all height.
Designed by Richard A. Teague, the 1963 Ambassador's shape was much tighter, cleaner, and smoother, with almost all of its parts interchangeable between it and the new Classic. All Ambassadors used unitized structure instead of the more rattl-prone, traditional body-on-frame construction which was still the industry standard. In 1963, AMC's new 112 in (2,845 mm) wheelbase cars (Ambassadors and Classics) used a revolutionary method of unit construction which has since been almost universally adopted by automobile manufacturers. AMC Ambassador and Classics used outerpanels stamped from single sheet metal panels which included both door frames and outer rocker panels. This resulted in an extremely rigid and rattle-free structure, better fit of doors into frames, production cost savings and reduced noise, vibration and harshness. The "uniside" structure was superior to the conventional production methods in which multiple smaller pieces were welded together. There were 30% fewer parts and the result was greater structural rigidity, quieter car operation, and an over-all weight reduction of about 150 pounds (68 kilograms).
Curved side glass and push-button door handles were new and costly upgrades, but contributed to the new Rambler's handsome, elegant, and modern Mercedes-like bodyside styling, by adding greater elegance in detail. At the time, curved side glass was used only in much more expensive luxury cars, but increased interior room and visibility, as well as reducing wind noise and improved proportions and styling of the cars. The Ambassador also featured a squared-off Thunderbird-type roofline. The front end featured a forward-thrusting upper and lower ends with a vertical bar "electric shaver" chrome grille insert. The Ambassador's grille was differentiated from the Classic's grille by its use of the Ambassador name in script in the small horizontal bar between the upper and lower grille sections. Round quad headlights were slightly recessed in chrome bezels mounted side-by-side within the grille at its outermost edges. Overall, the new Ambassadors were described by the staff of Automotive Fleet magazine as "probably the finest looking cars ever produced by American Motors."
Ambassadors once again came in 2-door coupe, 4-door sedan, and 4-door wagon body styles, but new trim lines debuted. A "Mercedes-like three-number model designation was developed" with the 800 as the Ambassador's base line (replacing the previous year's Super model) for the police, taxi, and fleet market, a 880 model (in place of the Custom), and the up level 990 trim (replacing the previous 400 models).
The 1963 Ambassadors were offered only with the 327 cu in (5.4 L) V8, in either 250 hp (186 kW; 253 PS) 2-barrel or 270 hp (201 kW; 274 PS) 4-barrel versions. AMC's smaller 287 cu in (4.7 L) V8 engine was only offered in the Classic line. The automatic transmission was controlled by a steering column mounted lever, replacing the previous pushbutton system. Maintenance was reduced with service intervals of the front wheel bearings increased from 12,000–25,000 miles (19,312–40,234 kilometres), the recommended engine oil change was at 4,000 miles (6,437 kilometres), and all Ambassador models included an alternator and a electronic voltage regulator as standard equipment.
Sales were brisk, and the redesign was billed a success, with Motor Trend Magazine bestowing Car of the Year status on the entire 1963 Rambler line, including the Ambassador. The marketing formula for the Ambassador generated record sales for the model with buyers favoring more luxury and features as evidenced by the Ambassador 990 models outselling the 880 versions by nearly 2-to-1, while the base 800 model had a total of only 43 two-door sedans built.The automaker did not have the resources of GM, Ford, and Chrysler, nor the sales volume to spread out its new model tooling and advertising costs over large production volumes; however, Richard Teague "turned these economical cars into smooth, streamlined beauties with tons of options and V-8 pep."
Overseas production
Australia
Australian Motor Industries (AMI) obtained the rights to assemble and distribute Ramblers, and the 1961, 1962, and 1963 model year Ambassadors were built in Australia. The 1961 sedan, which was powered by a 327 cu in (5.4 L) V8, was the most powerful car being assembled in Australia at that time Knock-down kits featuring right-hand drive were shipped from Kenosha to AMI's facilities in Port Melbourne, Victoria. The Australian-built Ambassadors included a significant a percentage of "local content" to gain import tariff (tax) concessions by using parts and components (such as interiors and upholstery) that were sourced from Australian manufacturers.
Costa Rica
Rambler vehicles were marketed in Costa Rica since 1959 New local content regulations enacted during the 1960s effectively required vehicles sold in those markets to be assembled from knock-down kit An assembly plant for Rambler and Toyota vehicles was established, ECASA, and the first Ramblers were produced in Costa Rica by the end of 1965 The company built Ambassadors and other AMC models through 1970, with Toyota increasing ownership of ECASA.
1960 AMC Ambassador 4-door custom rear view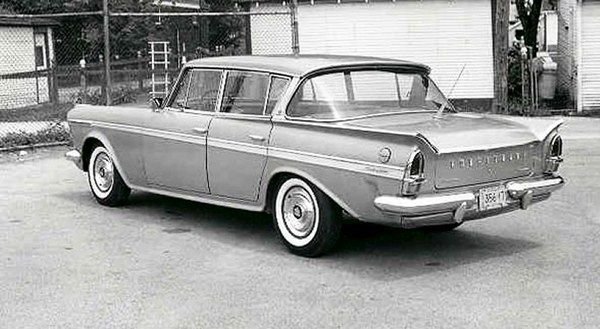 About
Updated
Wednesday, 18 July 2018