History
Allard J2
Production period:

1949-1954

Class:

race car

Body versions:

roadster

Engines:

petrol V8 engines :3.6–4.4 litres

Length:

3937 mm

Broad:

1727   mm

wheelbase:

2540 mm

curb weight:

940 kg
The Allard J2 is a racing roadster developed by the British Allard Motor Company Ltd. built as a successor to the J1 model.
History
The was intended for the US market Sydney Allard saw the potential of the US market and developed a special competition model as the J2.
The J2 roadster was a lightweight, with a hand-formed aluminium body The standard engine of the models delivered in Great Britain was the side-valve V8 engines from the Ford Pilot, with an output of 85 bhp (62.5 kW) from a displacement of 3622 cc. A 4.4 litre Mercury V8 engine producing 110 bhp (81 kW) was also available and the Ford "flathead" V8 was fitted in the USA market along with other V8s. 
American enthusiasts also installed V8 engines from from Chrysler, Buick, Oldsmobile and Cadillac instead. The J2s sold in the US were delivered without an engine.  Motors were then installed to the buyer's wishes.  This approach proved to be very successful; because the US components made the search for spare parts in the USA easy to find. 
The front wheels fitted on a swing axle with coil springs. A De Dion rigid axle was installed at the rear, which was also fitted with coil springs. Fitted with inboard rear brakes
The J2 proved competitively race car in the 1950s A total of 90 Allard J2s were built in 1950 and 1951.
Available both in street trim and stripped down for racing, the J2 proved successful in competition on both sides of the Atlantic, including a third place overall at Le Mans in 1950 (driven by Sydney Allard himself, who also placed first in the Monte Carlo Rally in 1952 driving an Allard P1 saloon car). Of 313 documented starts in major races in the 9 years between 1949 and 1957, J2's compiled a list of 40 first place finishes; 32 seconds; 30 thirds; 25 fourths; and 10 fifth place finishes. Both Zora Duntov (the father of the Corvette) and Carroll Shelby (the father of the Cobra) raced J2's in the early 50's. 90 J2's were produced between 1950 and 1952.
In an effort to extend a line growing obsolete in the face of advances in sports car design, Allard introduced an extended model in late 1951, the J2X. In an attempt to improve handling, the front suspension's rear attaching radius rods were redesigned with forward ones, which required a forward cross member and extending the nose out past the front wheels. This, in turn, allowed the engine to be moved forward, yielding more cockpit room. There is much confusion on the internet as to labelling of J2 and J2X types – the most obvious differences being that the J2 nose does not extend past the front tires and has two vents below the grill, while the J2X nose extends past the front tires and usually has a single vent below the grill placed on a more protruding chin.
An Allard J2 in The Gambler and the Lady, Movie, from 1952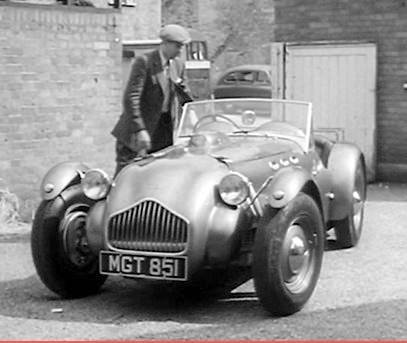 Related